Feminist Business Model Canvas
October 1, 2020 @ 6:30 pm

-

8:00 pm

Free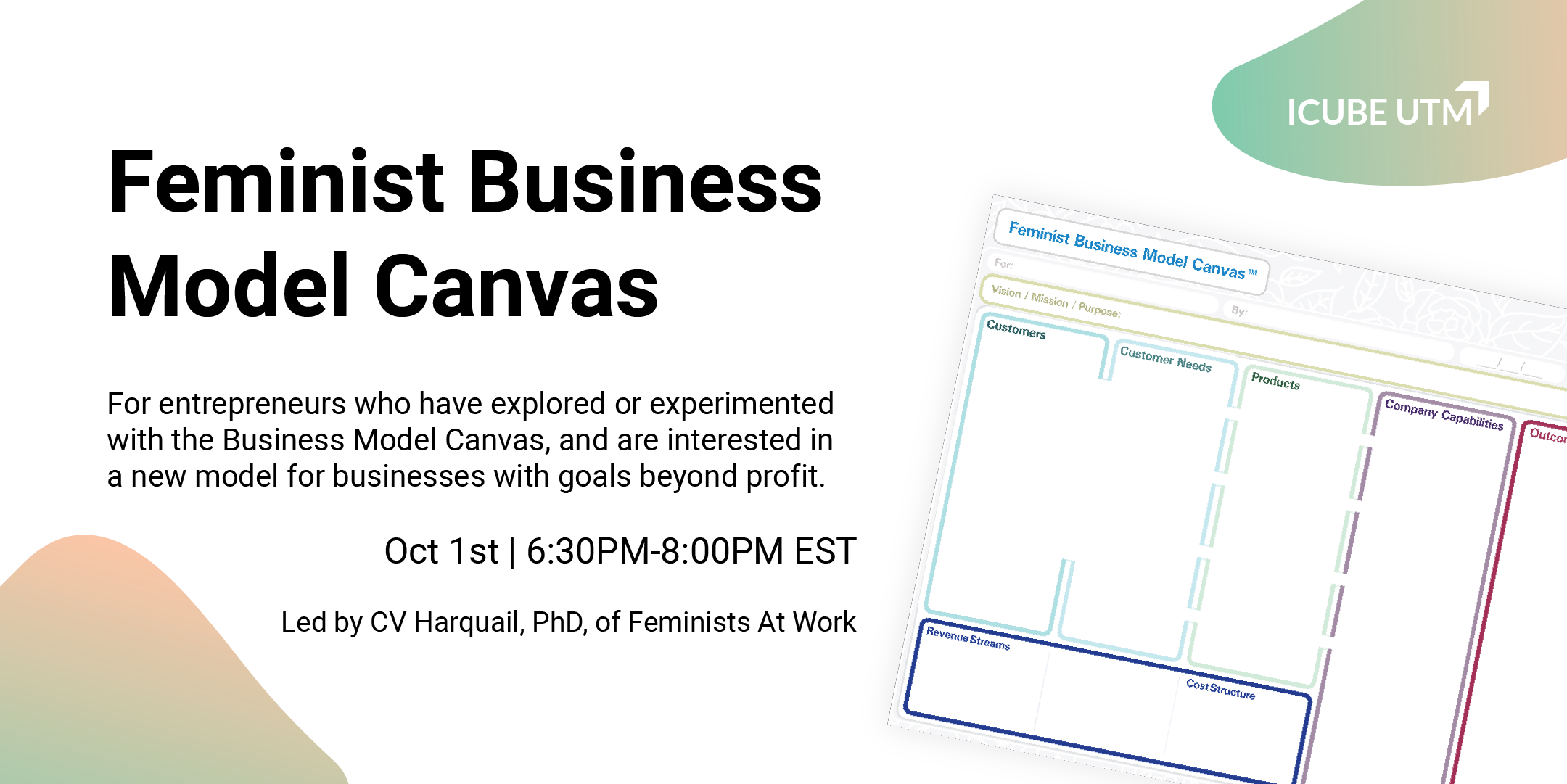 For entrepreneurs who have explored or experimented with the Business Model Canvas, and are interested in a new model for businesses with goals beyond profit
About this Event
You've seen and used the well-known Business Model Canvas (Osterwalder, et al., 2010) to understand how a conventional business might structure its revenue model… but wondered, what about a business that has goals beyond profit? What about a business that has a social goal, an economic goal, and even a political goal of transforming the world and moving it towards justice and flourishing?
If you've been wondering how to build a revenue model that moves your business towards the future, consider the Feminist Business Modal Canvas. The FBMC addresses many of the same components of a revenue model as the conventional BMC, but takes it several steps further to help you build your values and your visions directly into your business.
In this workshop:
Get familiar with the Feminist Business Model Canvas
Learn why it was developed and how it extends our discussions of entrepreneurship.
Contrast the two business model canvases to understand how different tools help us see and seize different opportunities.
Sketch your current business idea using the FBMC to reveal places where your model can — and should– be expanded.
Learn some foundational concepts of inclusive feminism and how these are relevant to business.
This workshop is designed for:
Folks who are already familiar with business modeling and revenue generation, and who are familiar with the Osterwalder canvas or the Running Lean (Maurya) canvas.
Participants who are interested in social entrepreneurship, people+profits, triple-bottom-line models, and other progressive business initiatives will find their values affirmed and their visions broadened by this workshop.
Led by CV Harquail, PhD, of Feminists At Work