What an exciting afternoon! Innovative minds, creators and founders alike gathered together on September 18th in the new Grand Hall to attend ICUBE's annual Student PITCH Competition at UTM.
These exciting pitch competitions have quickly become a favoured tradition at our campus for startups to showcase their biggest, brightest ideas.
Student founders gain confidence, hear from amazing speakers, network with investors and other entrepreneurs, and of course have a chance to win some cash!
The Pitch Competition
Competitors were given 3 minutes to tell the audience:
1. How does your idea solve a problem?
2. What impact will your idea have?
3. How will you bring it to market?
Audience members were given $5oo ICUBE dollars to "invest" in the compan(ies) they felt had the best pitches. After an opportunity to network and further convince guests that they had what it takes to be successful, the companies who had gained the most ICUBE dollars from audience "investors" walked away with the grand prizes.
The Teams Who Pitched
This year, PITCH19 saw 10 amazing finalists compete:
Icarus
Class Hill
Spicy Hangboards
Tenatch
Snatched
Axel
Hoop U
Black Hair Network
First Class Prescriptions
Utrition
All the wonderful contestants got their chance to talk the talk, but only the top five finalists of this year's competition wowed our audience enough to walk away with a cash prize of $1,000.  Among the winners, the top three were also be eligible to claim
$1,500 in-kind prizes towards incorporation by LW Law.
Think you have the Entrepreneurial Spirit?
It is a common misconception that to be an entrepreneur, you need to have a lamborghini sitting in your garage and read a book a day.  Before you go live on Instagram with your Booster Juice in-hand showing everyone that you are #livingthedream,
#winning, and #crushingit, you have to start with an idea!  We should all know that to a startup, every dollar counts.  What may be a thousand today, could be millions tomorrow! True entrepreneurialism begins when people just like you and me have a switch flip inside them, and are filled with determination to turn their ideas into reality, and solve a problem for the world.  If you have an idea and a passion to make an impact, we invite you to jump in and join ICUBE!
For more information about how ICUBE can help you become your own boss, or to register for ICUBE's next PITCH Competition, email program coordinate Kasey Dunn at: kasey.dunn@utoronto.ca.
Find out how our competitors prepared for the big day in our Mentor Spotlight with Portia Asli!
To connect with ICUBE: Like/Follow us @icubeutm
Visit ICUBE online.
Congratulations to everyone who participated in PITCH19, Student Edition!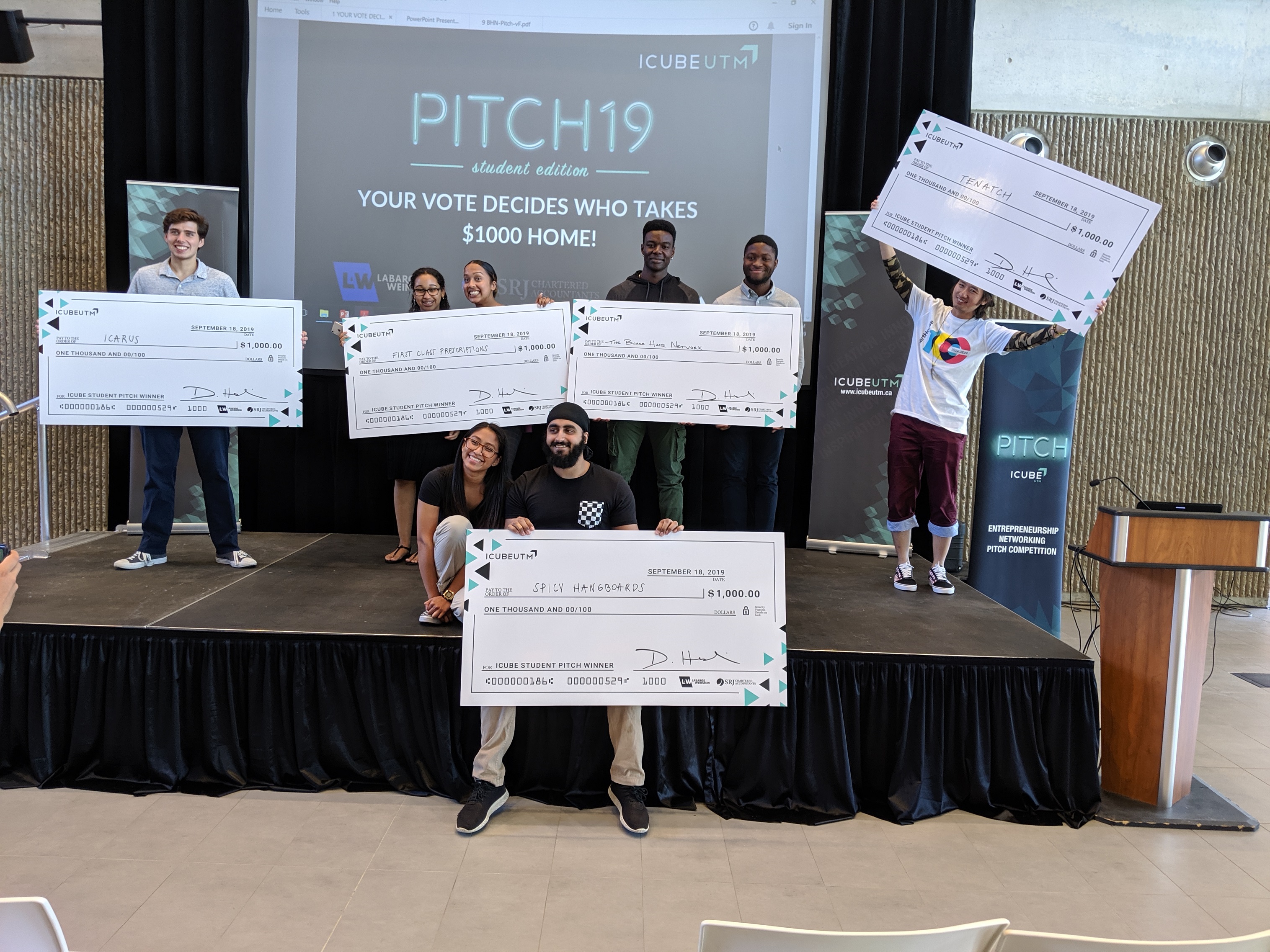 PITCH19 Winners, from left to right; Trevor Nagy with ICARUS; Sarah Omar and Tuli Chowdhury with FIRST CLASS PERSCRIPTIONS; Laurella Jose and Arman Singh with SPICY HANGBOARDS; Judson Asiruwa and Jeffrey Fasegha with BLACK HAIR NETWORK; David Fu with TENATCH. Congratulations everyone!