Women leaders are the driving force of innovation and tech in Peel Region & UofT Entrepreneurship.
On January 18, 2017, the Globe and Mail published a special article by Jodi Kovitz (CEO ACETech Ontario) titled, "For Canada to succeed on a global stage, we need more women tech leaders." The article portrays grim numbers of women leaders in tech and innovation as a problem requiring a challenge to readers to mobilize a movement to increase the number of women in tech leadership based on a relatively select sample size of 'Canada' and 'MaRS'.
While it is important to look at the top of leadership structures when evaluating inclusion and diversity, it is often equally, if not more important to look at the development cycle of leaders in tech / business to grow awesome leaders into these roles. If one were to investigate the data of how many women start / finish undergraduate degrees in engineering, computer science and perhaps even certain strains of business, and then pair that with how many women have interest in pursuing leadership track careers, I propose one would find similar proportions to match the number of leaders listed in Jodi's article.
From a data perspective, looking at the amount of job transitions most innovators in the tech space face, if 5% of undergraduate classes are women and 3% of the 'tech industry' is led by women, that could be a huge success. If you want to #MoveTheDial at the top, you must move the dial throughout the entire cycle of development.
UofT Mississauga is in a great position to move the dial in this area as all of the core programs; Management, Communications, Culture, Information and Technology, Mathematics & Computer Science, Masters of Management of Innovation, Masters of Science in Sustainability Management and ICUBE – Entrepreneurship at UofT Mississauga have incredible women leaders, team members and recruiters to help welcome young women into these tech roles and start them on the path to tech leadership.
The data that ICUBE UTM (incubator at UofT Mississauga) controls, points very positively to future women leaders leading tech in Canada (numbers from 2016):
47% of venture founders who were accepted into the ICE program were women.
72% of the applicants received by ICUBE UTM to work as part of ICUBE's support team were women interested in being involved in tech.
– –  75% of ICUBE UTM's student support team is young women interested in entrepreneurship.
57% of female students surveyed stated they were interested in starting their own business.
100% of student clubs in Math/ComSci, DEM/CCIT and Business have either a female president of VP.
As a 30-something year old male, I may be what you see when you think 'tech.'
Kinda skinny, glasses, wears a hoodie and tie to investment meetings… however when I think of 'tech leader' I see a very different picture.  My upline reporting structure, mentors and peer network is stacked with women leaders.
Jodi, please consider this a personal invitation to visit the UofT and Peel Region Entrepreneurial Ecosystem and see what's happening here as you prepare to launch #MoveTheDial.
Here is a list of just a few of the awesome leaders (who happen to be women) that are driving innovation in ICUBE UTM's entrepreneurial ecosystem!
Ontario Network of Entrepreneurs Peel Region
City of Mississauga:

Mayor – Bonnie Crombie
Director, Economic Development – Susan Amring
Manager, Sector Development & Economic Partnerships – Bonnie Brown
Manager, Small Business & Workforce Development – Heidi Brown
Life Sciences Business Consultant – Andrewa Mulder
Regional Innovation Centre (Peel)

Executive Director – Pam Banks
Operations Manager – Mariya Leslie
City of Brampton

Entrepreneurial Services Manager – Denise Mcclure
Town of Caledon

Executive Director, Strategic Initiatives – Laura Johnston
Director of Employment Development – Cathy Perennec Mclean
Humber Centre for Entrepreneurship

Professor / Program Coordinator – Cheryl Mitchell
Senior Program Manager – Laura Keeting
Ontario Centre of Excellence

Business Development Manager – Dr. Julie Lukkarila

UofT Mississauga (ICUBE UTM)
University of Toronto Entrepreneurship
Managing Director – Keri Damen
Founder & Director, Impact Centre – Dr. Cynthia Goh
Director, ICUBE UTM – Donna Heslin
Co-Director, Department of Computer Science Innovation Lab – Helen Kontozopoulos
Entrepreneurship Librarian – Carey Toane
ICUBE UTM – (Board Members / Think Group Members)
Director, Graduate Programs & ICUBE at IMI UofT – Donna Heslin
Executive Director, RIC Centre – Pam Banks
Executive Director, Angel One Investor Network – Karen Grant
Associate Director, Velocity (UWaterloo) – Nancy Heide
Senior Investment Manager, Ontario Capital Growth Corp – Brenda Hogan
Lawyer, Pallet Valo – Andrea Brinston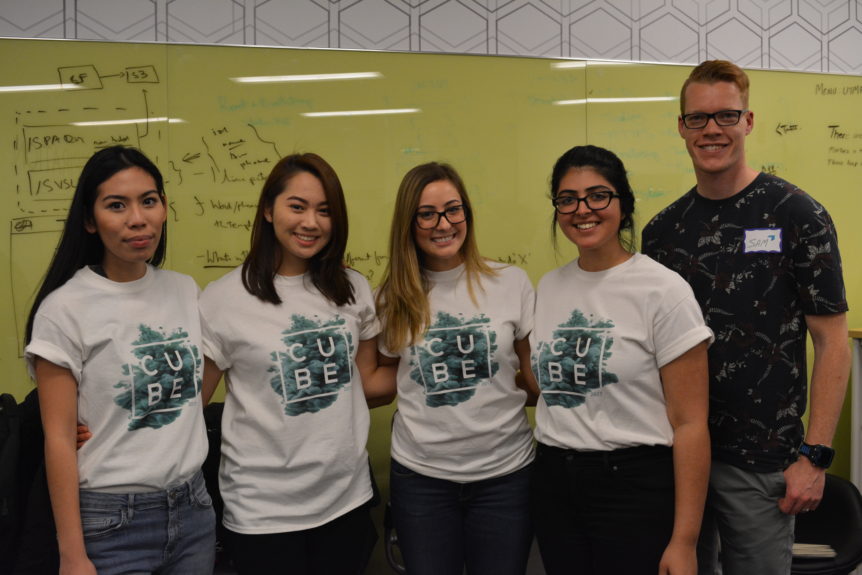 TEAM ICUBE (WorkStudy Start-Up Support)
Blog / Events – Cheng Siew
Events & Student Engagement – Stephanie DiNucci
Lead Designer – Alyha Shahrukh
Social Media / Special Projects – Kineta WirahardjaIf women leaders in tech is a measurement of future success of a tech industry.Peel Region, UofT Entrepreneurship, and ICUBE UTM is definitely heading in the right direction and paving the way for the rest of Canada.
Updated on March 8, 2018 – International Women's Day to reflect and celebrate some of our new awesome Women Leaders and Partners:
ICUBE Founders:
Avalife –  Aishwarya Babu, Founder
CarbonQ – Lulu Li
Cleanopy – Natalia Mykhaylova
CubioCo – Jennifer Dodds
Dalriada Therapeutics – Diana Kraskouskaya
KWETech – Natalie Sokoloff
Participaid – Erica Tatham
SmartCane – Riya Karumanchi
SOCITY – Palak Purir, Rhea Puri
Stunlock Security – Christine MacDonald
UDimensions – Christina Guo
Ontario Network of Entrepreneurs (Peel Region)
Manager, Entrepreneurship and Changemaking,  Sheridan College – Renee Devereaux
ICUBE CREW (Startup Support)
Aliza Betsis
Katherine Zdanowski
Maryem Abbas
Shanen Lautan
Taylor Walker