There are numerous accounting software available for small businesses that provide a diverse array of features that could benefit your business' unique needs. However, making the decision could be difficult and time-consuming as you'd have to research the accounting software that is appropriate for your specific business dynamic, offer the features you need and is within your budget range.
This article is intended to assist with making the process of finding an accounting solution more bearable. Various accounting software solutions were researched and utilized by trial runs to compare and contrast the vast array on the market today as well as our recommendations based on key features.
Most Suitable for Overall Accounting:
QuickBooks Online
Website: QuickBooks
Overview: QuickBooks has been known to be the market-leading accounting software for numerous years as they claim to offer "Smarter business tools for the world's hardest workers." On their website, it states that 98% of the users believe their solution helps making their businesses easier to run. QuickBooks has held this reputation as they offer very thorough accounting features and in-depth reporting. The various features vary depending on the specific QuickBooks plan users use, as the more expensive plans have more advanced, robust features. Though, all plans offer the clients the following features: tracking income/expenses, managing receipts, invoicing, tracking sales tax and creating the respective sales tax reports. For payroll services, users would have to pay an additional fee. QuickBooks Online is a great option for small businesses in need of different accounting needs, however, compared to the other software in the market, it could be deemed as rather costly. However, it offers the most comprehensive accounting features for small business owners.
Pricing:
QuickBooks Online is an essentially scalable software as it offers four diverse plans for different clients based on their diverse needs and business' dynamic
Free 30-Day Trial for users
50% Off all plans for the first 3 months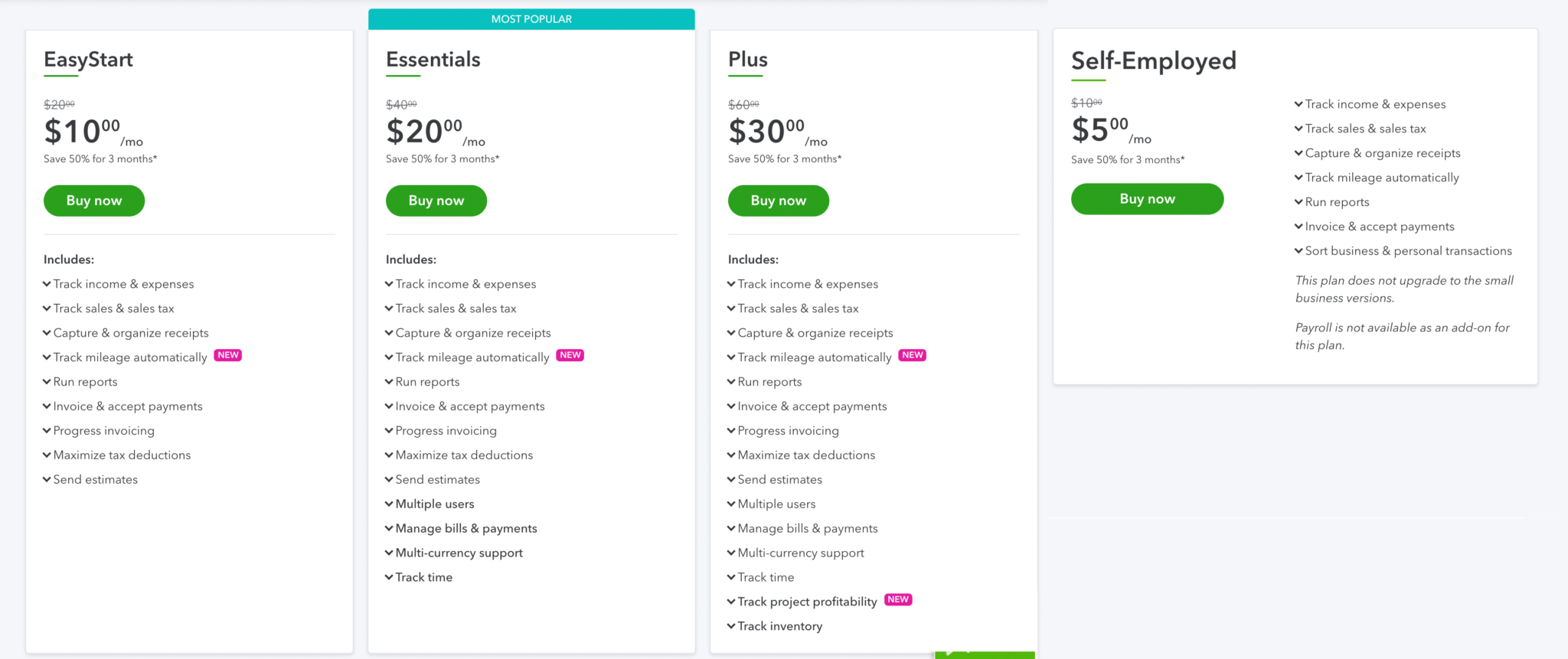 Ease of Use:
Very User-Friendly
Though QuickBooks Online is one of the most comprehensive advanced accounting software in the market, there might be a steep learning curve when comparing the software to others
QuickBooks Online offers its clients a diverse array of learning and support resources such as articles that cover different concepts relevant to small business owners, video tutorials, webinars and various training classes
Unlike most of the other accounting software apps, QuickBooks' mobile app can do everything the cloud-based software can do, which includes invoicing, accounting, expense tracking and capturing the receipts. Users can use QuickBooks' mobile app (can be downloaded with iOS and Android) to access their information and use the software on-the-go
To try out QuickBooks Online and familiarize yourself with the software, it allows you to access a demo company and utilize all the software features based on the data in the system already
Tax Planning:
QuickBooks Online does not help with direct tax filing, but the software provides features that makes the process easier and faster. For tax filing, certain details about your revenue, expenses, and the respective taxes incurred are needed. These are all easily accessible as once you input your transactions, QuickBooks Online categorizes them, allowing you to view these details upon tax season. QuickBooks is one of the most commonly used accounting software and because of this you can integrate your QuickBooks account with many other software, and in this case, tax preparation software. If you use a tax preparation software that is compatible with QuickBooks Online, as opposed to manual entry that can lead to mistakes and takes time, you can instantly input your accounting records to your tax forms.
Additionally, QuickBooks Online can automatically calculate sales/purchase tax payments based on your specific region's regulations, the type of goods/services you sell and the amount of each transaction. QuickBooks Online then creates a sales tax report that can further save your time and simplify your tax obligations.
Most Suitable for Invoicing/Bookkeeping:
FreshBooks
Website: FreshBooks
Overview: FreshBooks is an ideal accounting software if your main accounting needs for your business includes invoicing and bookkeeping. Invoicing is a vital routine for many businesses, especially service businesses. FreshBooks provides a solution for your invoicing needs as it provides an easy-to-use interface where you can track your income and expenses as well as send, receive, print and pay invoices while simultaneously addressing your business' bookkeeping needs. All plans offered provide a feature of unlimited time tracking which you can use to track the time spent on a project. In addition to the predominant invoicing and bookkeeping features, with FreshBooks, users can also make client estimates, utilize double-entry accounting, create financial reports and manage projects. FreshBooks is a great software to use if you don't believe you need to use more advanced accounting features and primarily just need a software to easily create invoices, manage your expenses and track your time on projects.
Pricing:
FreshBooks is an essentially scalable software which has four pricing plans available. With this, as your business grows and starts to require more comprehensive accounting features, you can always upgrade to a more advanced plan. The software even has a plan for users that may need customized services, the user would then be assigned a personal account manager and receive custom training for their unique business needs. Based on the nature of the customized service, there would have to be a custom price as well.
60% Off of all plans for 6 months (For a limited amount of time).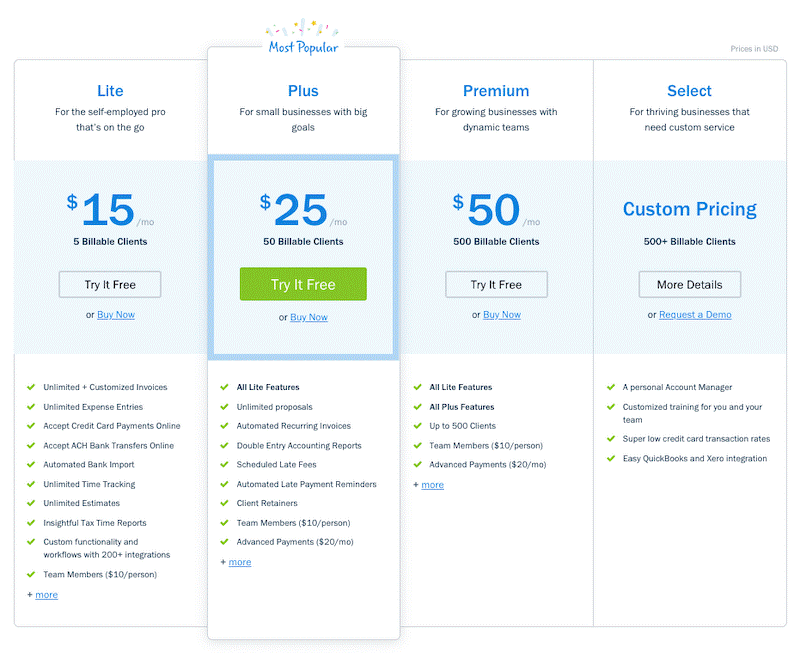 Ease of Use:
Very User-Friendly.
Out of all the accounting software reviewed, FreshBooks appears to be the easiest to use.
FreshBooks has numerous resources that may address common questions users may have with regards to using the software, but in addition to that, users under any plan have access to call a toll-free number and speak to a live person with regards to any inquiries. Additionally, users have the option of contacting FreshBooks through email or access support on their website.
FreshBooks' also offers its services through its mobile app (can be downloaded with iOS and Android). Though, the mobile app has some limitations.
Tax Planning:
FreshBooks does not offer any direct tax planning services. However, FreshBooks helps users with the preparation of reports (for instance, Sales Tax Summary) that will help make the tax filing process easier and quicker. In case you are comfortable using the software for its features but still need additional help with your taxes, FreshBooks offers an Accounting Professionals Program, through which they can match you with a certified tax professional who could not only file your taxes for you but could also assist you with managing your books. FreshBooks also has a diverse array of articles addressing tax time resources for small businesses.
Most Suitable for Payroll/HR Purposes:
Majority of the accounting software in the market such as QuickBooks Online, FreshBooks, Xero and Wave do not include payroll functionality. Though, these softwares all provide payroll services at an additional fee. This may not be very convenient if you are just starting off with an accounting software or are under a tight budget. However, even if you have no/very few employees, accounting for payroll and HR are still vital for your business! Given the time-consuming and difficult nature that comes with handling payroll and HR, a software might be a suitable option.
ICUBE has entered a partnership with PaymentEvolution, as we recognize the importance of accounting for payroll and HR and making the process easier for the start-ups. With this partnership, start-ups with ICUBE get to use PaymentEvolution for free for a year, starting from their registration date using the following code:
Referral code (Free 1-year Trial): UTOB22Free1-20
PaymentEvolution provides a payroll solution as it allows Canadian businesses to process their payroll both quickly and efficiently. The software provides a user-friendly intuitive software that allows users to access and deal with their payroll management from anywhere at any time.
PaymentEvolution
Website: PaymentEvolution
Pricing (After using the free trial):
Free Payroll Calculator
PaymentEvolution is essentially scalable as they offer three different plans for users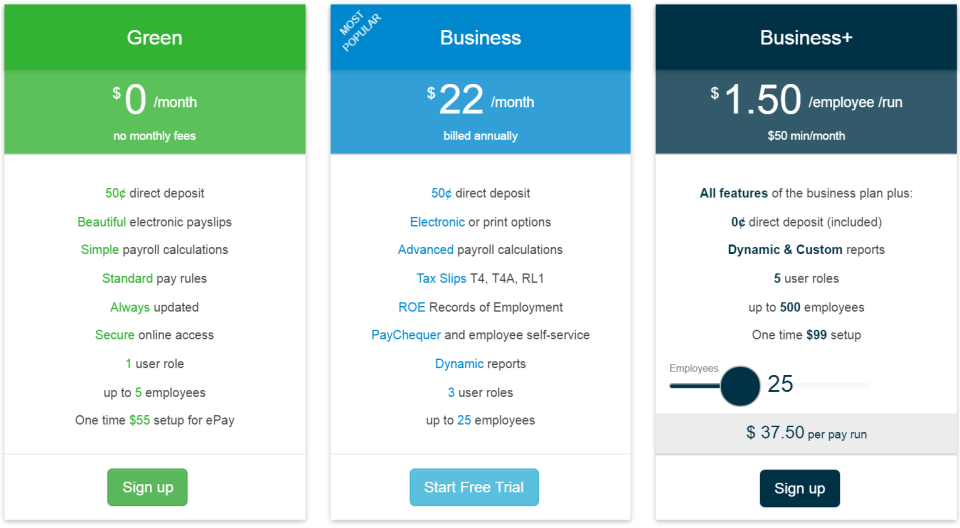 Most Affordable Accounting Software:
Wave
Website: Wave
Overview: Wave is an ideal accounting software for small businesses on a budget as the accounting software is entirely free! Upon registration, only your email address and username is required, they do not even require your credit card. In addition to its affordability, Wave also provides many features such as: unlimited customized invoices, unlimited number of users (great for if you have an accountant and want to view your accounts still), multiple financial reports (e.g. profit and loss statements, cash flow reports, balance sheets and sales tax reports) and an easy to read dashboard. However, Wave does not have any inventory management feature, therefore, if your small business deals with a lot of inventory, the software might not be the most ideal. In addition, you'd have to pay a fee for your payroll. Overall, as a beginner accounting software, Wave could be a perfect solution, however, because of the limits, once your small business grows you could also consider switching to a more comprehensive accounting software.
Pricing:
All accounting features are completely free
Additional fee is required for payroll
Fee required for credit card processing and bank payments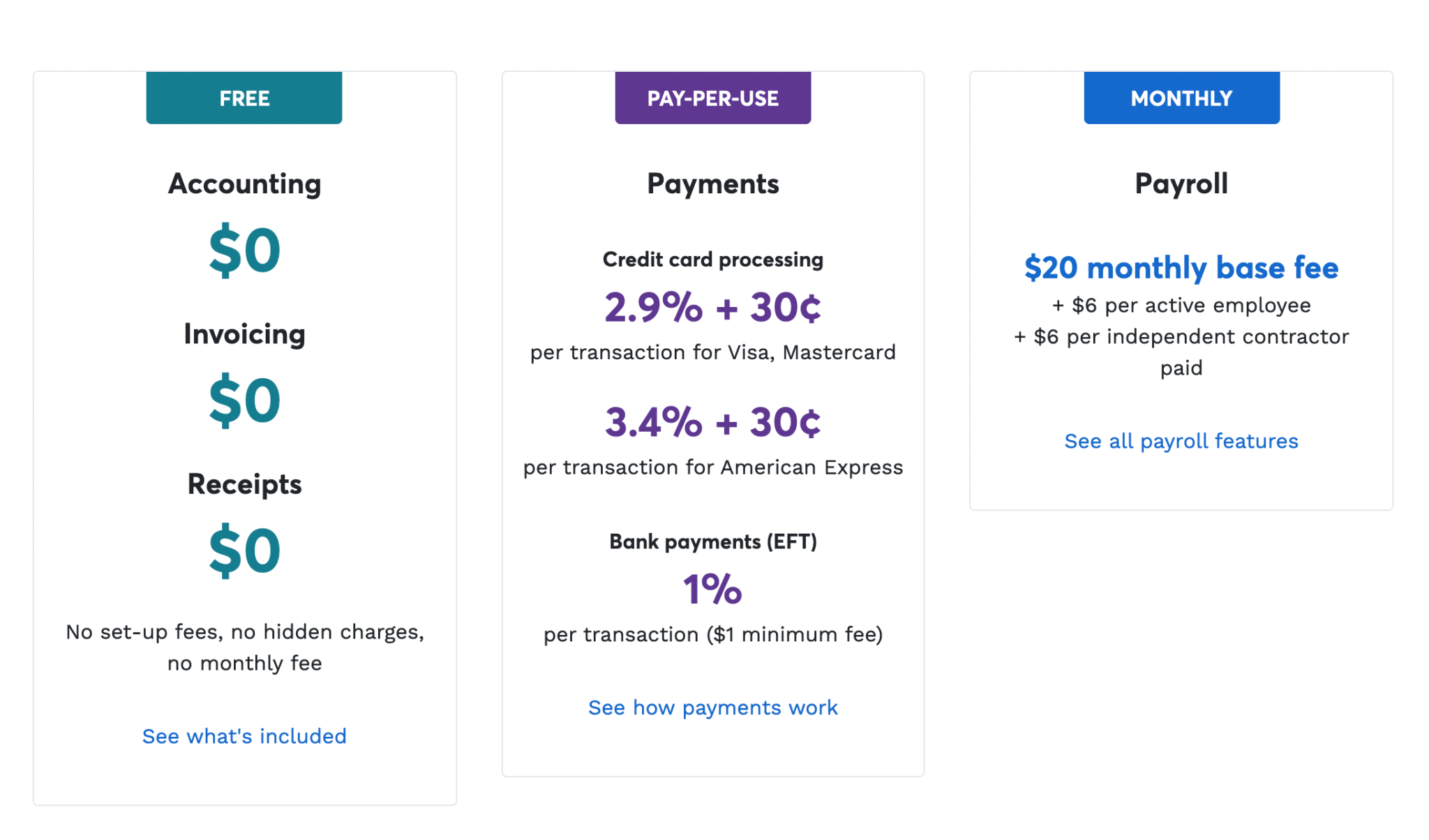 Ease of Use:
Very User friendly.
Though there is no mobile app for accounting purposes, the Wave app (can be downloaded for iOS and Android) can be used for mobile invoicing and receipt scanning.
Wave is a great software for small business owners just starting off with an accounting software. Upon registration, Wave gives users a tour and guide for the platform for themes based on one of the following options: Professional Invoicing, Better Bookkeeping or Reliable Payroll. With this, based on your primary accounting needs, Wave offers an affordable solution!
Tax Planning:
Wave does not offer any direct tax planning services. However, through Wave, you could set up multiple sales/purchase taxes. After creating a sales/purchase tax (based on your region's tax regulations), Wave will automatically create a sales/purchase tax liability account. That is, after you've inputted a transaction, Wave can help you calculate the pre-tax amount, sales tax amount and post-tax amount and ultimately put each value in its respective financial reports. This could assist your tax filing as it will illustrate your sales/purchase tax for the following transactions: invoices, bills, income transactions, expense transactions. This is beneficial as you'd need to be able to access your tax receipts to see your eligibility for tax deductions and with Wave, you can easily view this under your Charts of Accounts.
Most Suitable for simple Inventory Management
Xero
Website: Xero
Overview: Xero is an ideal accounting software for small businesses as alongside its in-depth functionality, it offers basic inventory management. Inventory management is needed for businesses to track what they have in stock, add inventory to quotes and invoices, and report on what product lines are currently trending. Xero is one of the few accounting software that incorporates inventory management with other accounting features. The accounting features offered are all the standard financial statements as well as tax, purchases, sales and inventory reports. In comparison to other accounting software as well, Xero is a more-user friendly software with a very straightforward dashboard that offers the following features: invoicing, expense management inventory management, project management and bill payments. Users of Xero also have access to features Xero does not directly provide as the software integrates with over 700 third-party applications! Overall Xero is a great accounting software to use as it is easy to use, offers a diverse array of features and does not require users to have any accounting knowledge. Though, it is notable that many of their features are only offered in Xero's more expensive plans and the Starter plan is quite limited with the features.
Pricing:
Free 30-day trial.
Xero is quite scalable as it has three pricing plans available. With this, as your business grows and starts to require more comprehensive accounting features, you can always upgrade to a more advanced plan.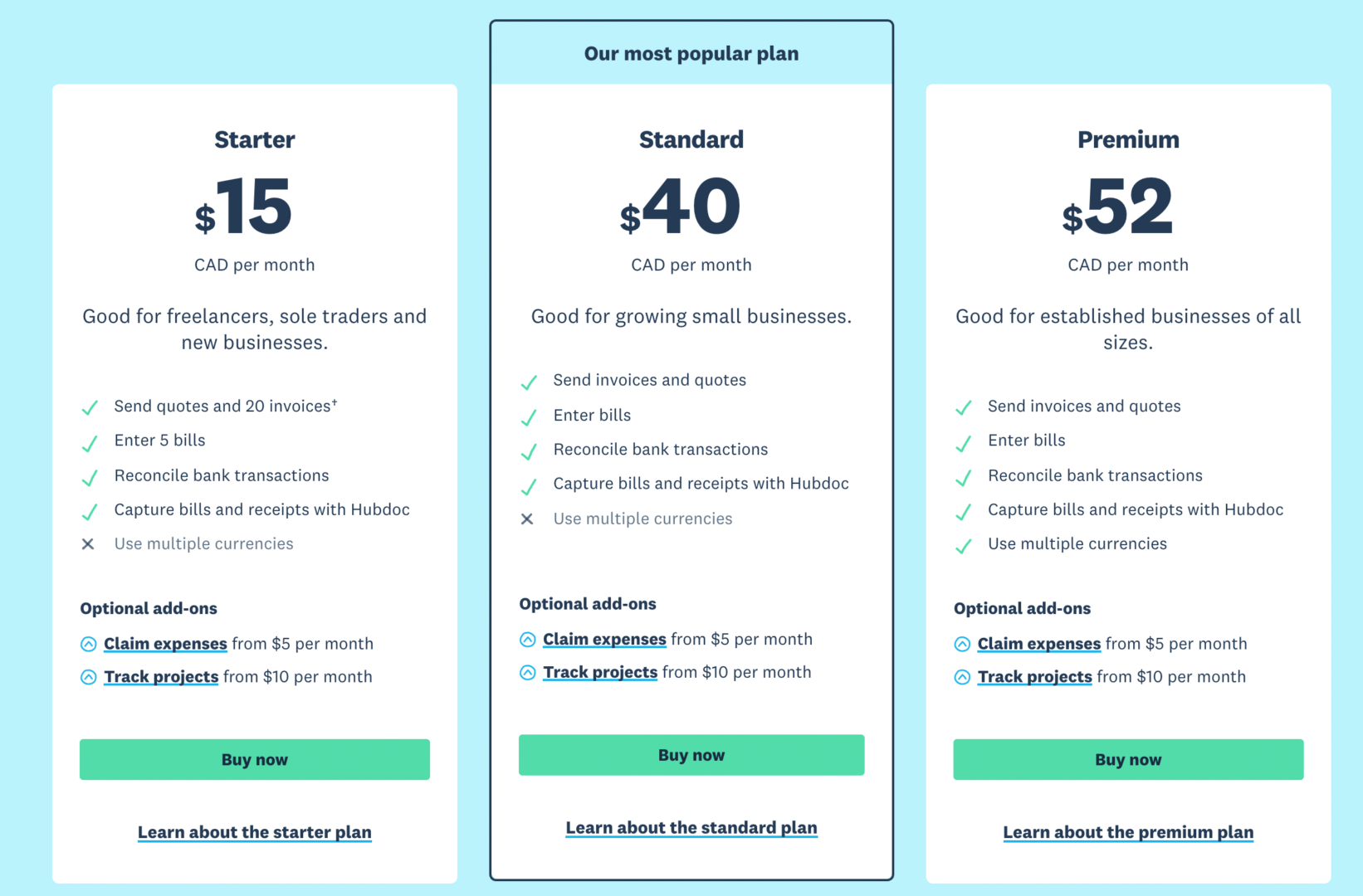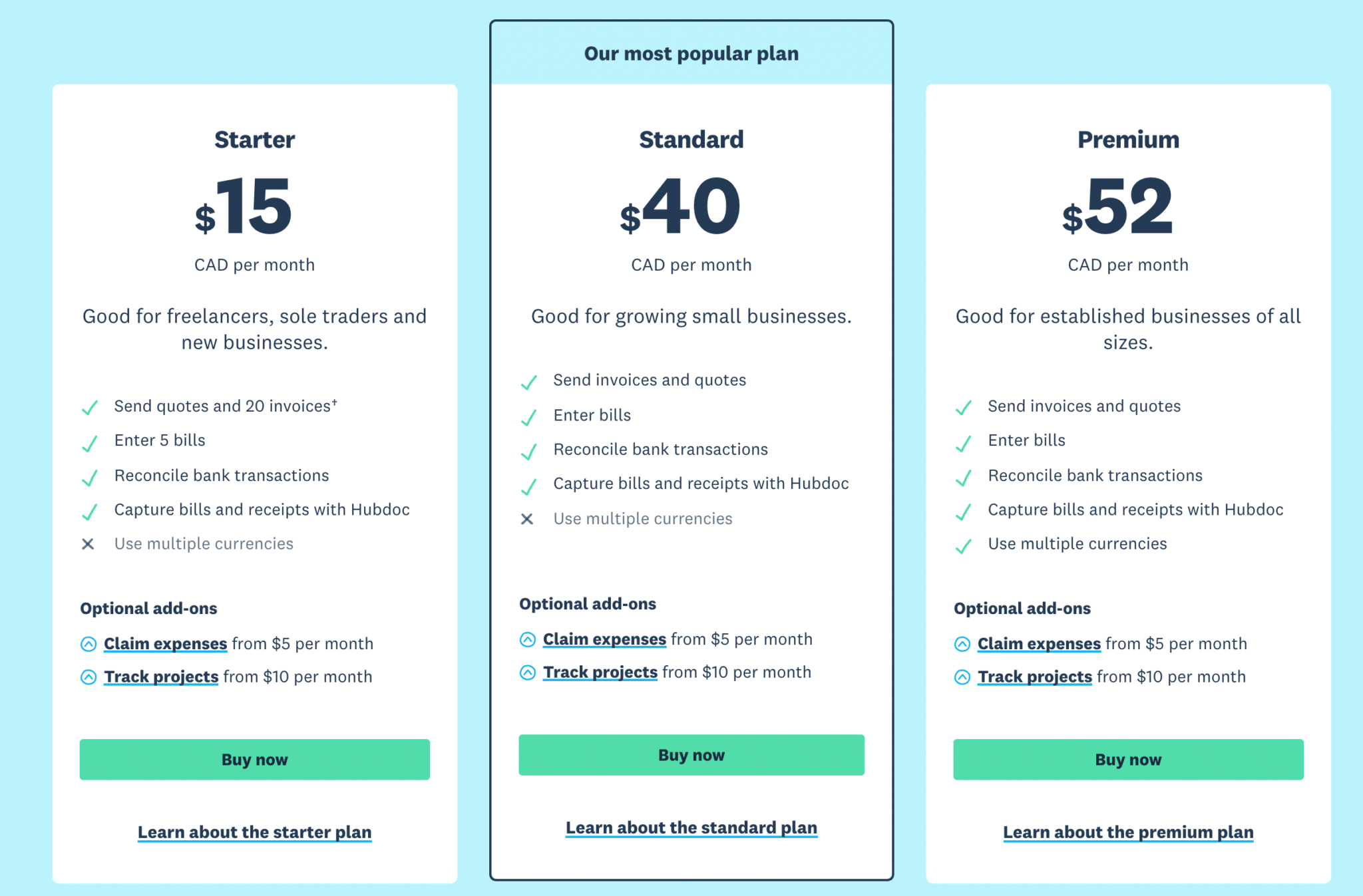 Ease of Use:
Offers 24/7 online support to assist clients at any time
Though their app does not provide all the features found on the full online version, Xero has a mobile app (can be downloaded for iOS and Android) that allows users to capture and approve expenses, invoice clients and save contacts.
To try out Xero and familiarize yourself with the software, it allows you to access a demo company and utilize all the software features based on the data in the system already
With the default charts of accounts that Xero offers, users of the software do not need a prior accounting background or any accounting knowledge in order to use
Tax Planning:
Xero does not offer any direct tax planning services. However, Xero allows clients to manage their GST/HST easily. With Xero, the commonly used Canadian sales tax rates are already set up, however, if needed you can create and customize tax rates to fit your specific business conditions and needs. Xero automatically calculates your GST/HST on your transactions. This could assist with your tax filing as it will demonstrate your sales/purchase tax for the following transactions: invoices, bills, income transactions, expense transactions. Xero also provides a feature that allows clients to generate GST/HST return reports for your select tax periods with automatic tax line calculations.