ICUBE UTM and the entire team at IMI would like to congratulate Ryan Cerrudo who was recently recognized with a 'True Blue' Award for the invaluable contributions he makes to the University of Toronto every day.
No lies, its hard to find photos of Ryan because he's usually the man behind the camera, always team player, living in and capturing the moment.
As shown in this photo, Ryan's fun loving style unsuccessfully tries to hide the lengths he will go to get the job done!
While there's a bunch of 'official' stuff below that talks about what a rock star Ryan is to work with, Ryan is the type of guy who will bring his own bucket to help bail you out.
Ryan has been a friend of ICUBE since Day 1 and we wouldn't be where we are today with him!
Ryan's awesomeness was officially recognized for following contributions: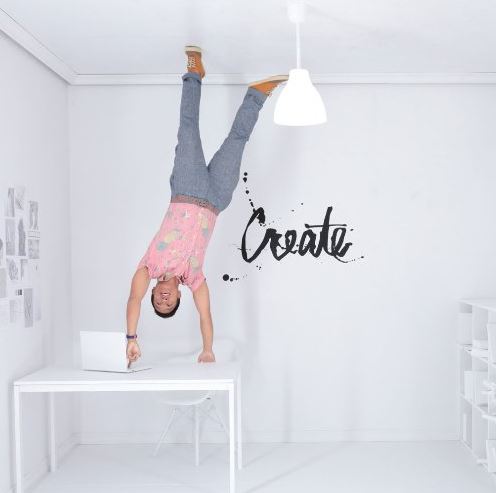 • Making meaningful connections with others
• Providing guidance that makes a difference to others
• Creating a sense of community that fosters diversity and inclusion
• Demonstrating genuine caring for others
• Conducting his daily work with the utmost of care; and,
• Making the University great every day by just being here
Adrian Berg was the nominator and had the following to say about Ryan:
"Ryan is a consummate communications professional who gets the job done, always exceeding expectations."
"Ryan creates a sense of community and inspires those around him through his work ethic, enthusiasm and good cheer."
"It's all the little things he does – quietly and without fanfare, day in and day out – to bring people together and make a difference on campus. Although he likely doesn't know it, Ryan is a leader and an unsung hero at the University of Toronto Mississauga."
We are proud to work with you Ryan!!!
(Initial announcement provided by Donna Heslin, Director ICUBE, Graduate Programs & External Relations (IMI), with moderately liberal adaptations by the post author to further celebrate Ryan's awesomeness.)