UofT Mississauga has a reputation for being a commuter campus, but in the lower level of the Innovation Complex, the lights are often on well past midnight as the white (and green) boards fill with business models and product plans.
During the summer months ICUBE pauses its formal programming enabling a season for start-up teams to work on the concepts they develop during the ICE program. Start-up coaches remain available to help with strategy and consulting, and also to link entrepreneurs with other resources in the UofT Entrepreneurial ecosystem. While we had a few student teams stay on, we also experimented with opening the doors to the community and found that there were a lot of awesome teams out there looking for space to work and connect. Thus was born the ICUBE Residency Program, which is currently in its beta phase, and will formally launch in January 2017.
Creating a Residency Program has enabled ICUBE to have a much more diverse group of companies operating at different stages, all of whom are able to offer assistance and insight to each other. This multi-generational model if you will has helped form a healthy, innovative community and we are looking forward to launching into the next season with a fully developed program.
Currently there are eight different teams that call ICUBE home representing at least 8 different universities with multiple business models, project styles, team sizes… all unique in their own way that combine to form what we're calling 'Cube Culture.'  No one is stuck alone, this is our community – here are a couple of mini stories of some culture shifting teams.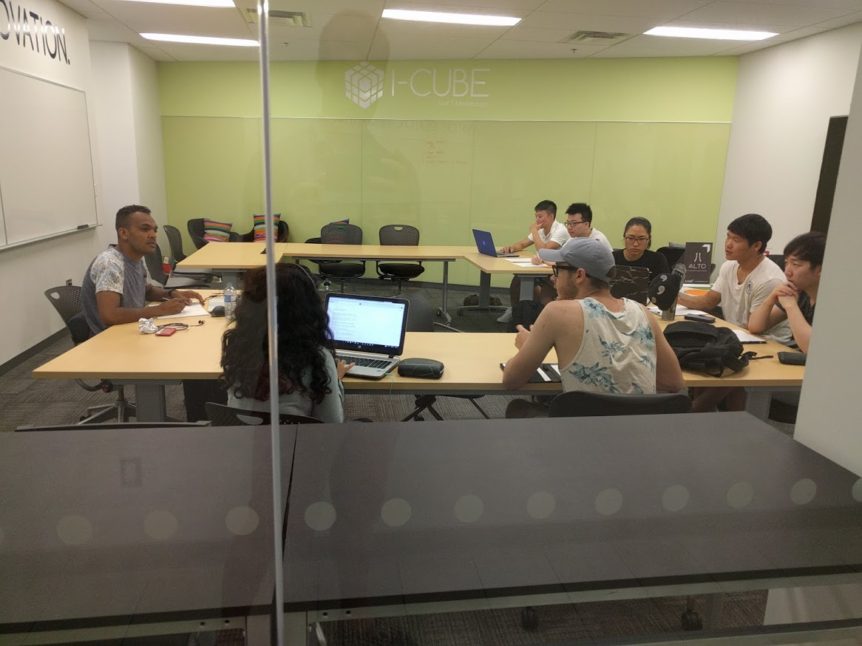 Alto Earbuds: Ahmed Ali, Alto's founder is Mr Consistent at ICUBE.  Often here before our team at 8am with his multi-monitor display of his in-ear earbud designs, Ahmed is a staple presence in the ICUBE co-working space.  While Ahmed has been working on the development / manufacturing of Alto, he has also been using his Master of Engineering Entrepreneurship and Innovations education to help engage with UofT Mississauga's academic community. With Alto's successful Kickstarter campaign ($79,211) and unique product (that was in development almost a year before Apple AirPods were announced), Alto has been a case study for several CCIT student teams sharing from his experiences to inspire the next generation of innovators.
Anomaly Innovations: Frank and Jay showed up in our basement after working on their latest start-up for a few months at one of City of Mississauga libraries. Our partners at MBEC heard their story and thought ICUBE would be a good fit for them. Starting their journey as students at University of Waterloo, then heading down to San Francisco with some of their products, they were able to pick up some legit investment before heading back to Canada. Now they're here at ICUBE working on their new product Toolbeam.  Go ahead, click the link and watch how you can turn an API into a mobile tool almost instantly / or see if you can hack their GitHub and make your own tools!
SHYFT: ICUBE is a place where it's cool to hang out with your friends, so Frank and Jay invited their buddy Daniel Chen, who's the Chief Technology Officer at Shyft to get in the Cube. Coming off a busy summer graduating the TechStars program in Seattle, and raising $1.5million USD in investment, Daniel was spending a bit of time closer to home and needed some office space.  Daniel has been a huge asset to the ICUBE team as he steps in as a 'start-up coach' helping junior teams and has also been a judge for some of the Management case study competitions like "Ready Set Market."  (Fair warning – if you come to ICUBE around dinner and it smells delicious, it's either Frank, Jay, or Daniel and if you ask nice, they might share!)
Having everyone together has helped raise the water level for all of us in ICUBE. Younger teams are inspired by the success of guys like Daniel, and when some of our residents get stuck ( #wednesdayhappens), they are able to be inspired by the youthful exuberance of the just-out-of-the-starting-blocks start-ups.  So if you're interested in starting something new, check out ICUBE's ICE program (Applications now open, commencing Jan 2017), or if you have an established company and want to get into a more innovative space than your local Starbucks – check out our ICUBE Residence Program, coming January 2017.