What is the green thing?
While ICUBE's logo may look like it incorporates an arrow pointing up, a chevron, or a cool design element, the "green thing" is actually an apex. An apex is the top or highest part of something, especially one forming a point. And it just happens to be the highest point of a cube.  (Cool right!)
ICUBE UTM is designed to help startups build a launching off point, and so we designed our logo to reflect that. Please find our brand guide below how to showcase the ICUBE UTM logo.
ICUBE NEON IMAGES ICUBE's neon images are meant to represent the three founding pillars of ICUBE; Inspiration, Ideation, Innovation.  A light bulb is often paired with innovation and entrepreneurship and these images take that thought to the next level.
Light bulb – This isn't your Swan / Edison bulb, this design is heavily inspired by UofT startup, nanoleaf – creators of the most energy efficient light bulb in the world!
Rockets – bubble cartoon rockets often represent startups; but this is UofT, where our goal is to help companies take off, for real. The design for our rocket is heavily influenced by UofT Institute for Aerospace Studies (UTIAS), one of nine incubators in the UofT Entrepreneurship ecosystem ICUBE partners with.
The ICUBE Logo
ICUBE uses two official logos: long and stacked. Both logos come in light and dark type to accommodate varying shades of background.
When to use what:
The long version is for working with rectangular spaces such as a banner. (Please note the long version is ICUBE UTM's official logo.)
The stacked version of the ICUBE logo is for trying to fit the image into a square space.

Long Version

Stacked Version
White vs. Black
The following charts indicates the % black fill used for the white version and the black version of the logo. Ensuring there is at least a 40% contrast between our logo type and the background colour will really help our logo pop!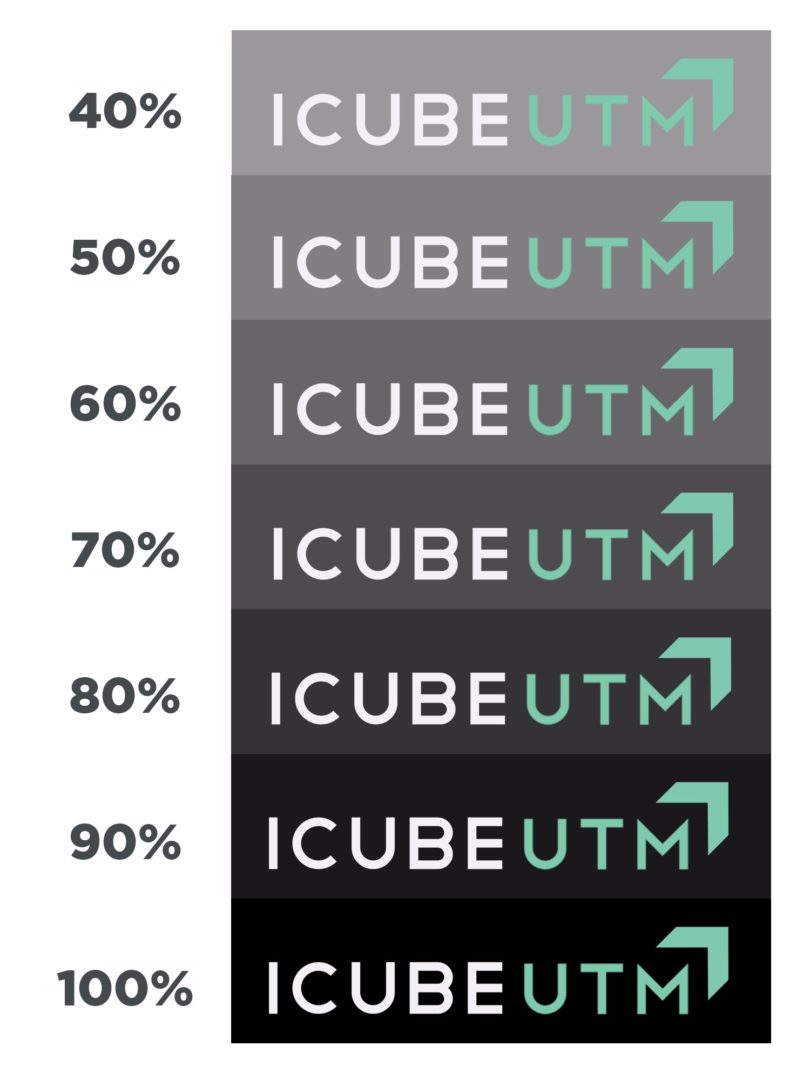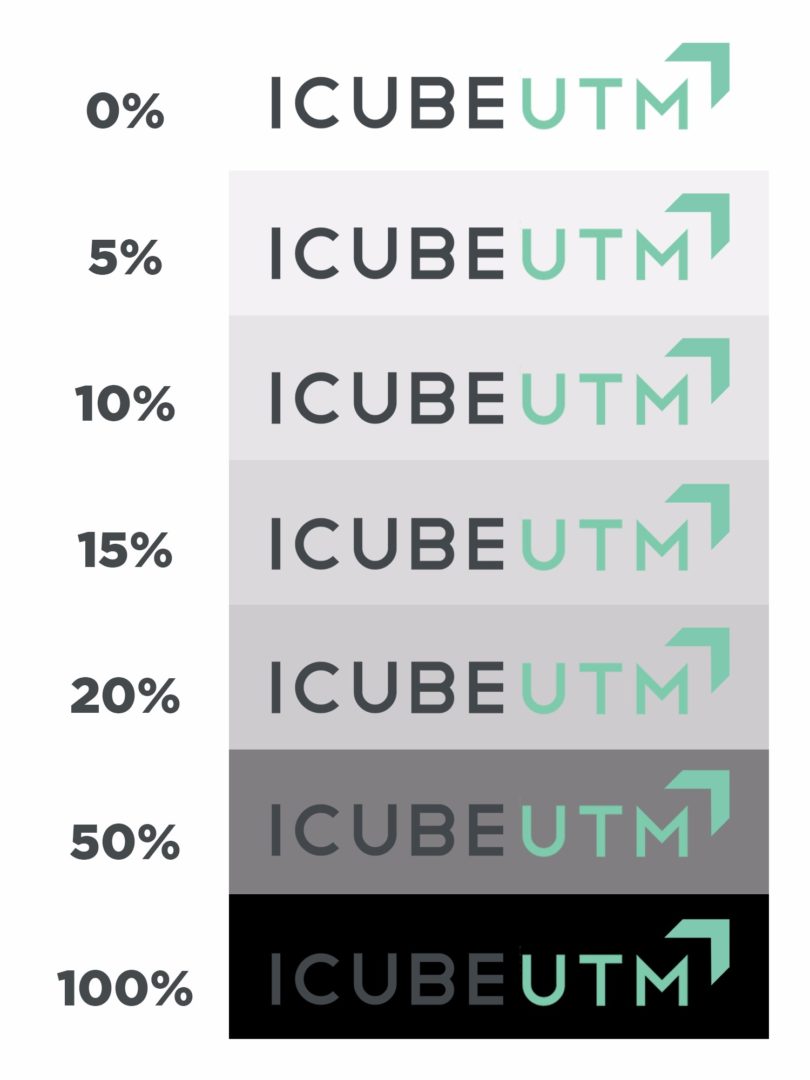 Protected Space
Everyone likes to have their personal space (even in a co-working space), logos included. For best results, please give our logo the room it needs. Imagine a moat around the logo 2px units wide – and then fill it with nothing.

Things to do with the ICUBE logo:
Give it some creative space / room to breathe
Help our logo stand out featuring backgrounds with a contrast of 40% or higher
Download our full logo package
Contact us for any questions you may have
Work with us to uphold our brand
Be amazing!
Ways to cramp our logo's style (please don't):
Obstruct our logo with other graphics/text
Put our logos on an angle
Put our logos in a circle, square, triangle, or any other shape
Recolour our logo
Resize our logo smaller than the permitted small size
Resize our logo bigger than the permitted large size
Rearrange the components of our logo
Logos colours, as well as maximum/minimum sizes are available for download here.